About The Journal
LAUNCH OF THE JOURNAL
On March 14th, 2014 Udayan Care launched a bi- annual academic journal 'Institutionalised Children: Explorations and Beyond' (ICEB), in relation to the state of care of children in institutions and in alternative care, focussed on the eight South Asian countries (Afghanistan, Bangladesh, Bhutan, India, Maldives, Nepal, Pakistan and Sri Lanka. The 1st issue of the journal was released at the seminar 'Institutionalised Children: Seminar on Standards of Care and Mental Health" at Amity University, NCR, India, organised by Udayan Care with a host of partners and sponsors. So far 5th issues of the journal have been released and preparations are on for the sixth issue, Vol 3, No. 3, slated for September 2016.
MISSION OF THE JOURNAL
To make available a platform for consistent sharing of information, knowledge enhancement and the development of a dialogue and debate amongst professionals, policy makers, and volunteers working for children in institutional and other alternate care, about best practices, research findings and studies, legislation, jurisprudence and case law, in relation to such children's mental health, social development, care and upbringing in alternative modes of care in South Asian countries.
VISION OF THE JOURNAL
To address issues of child care and policy, legal concerns related to child care and management issues, children's home care strategies and care-giver solutions, developing home monitoring systems, children with special needs such as disabilities, juvenile delinquency, or children diagnosed with HIV/AIDS. Regional and local issues in South Asia on related topic will be considered. Issues related to 'good practice' will gain prominence in the journal. The journal encourages articles aimed at regional collaborationsand also research issues related to such topics.
PURPOSE AND SCOPE
To expand and enhance knowledge about children who have been out of home care and need institutionalised or other alternative care systems. Such children are often at risk with the law and are subjected to leading marginalised existences. This journal will also attempts to address limitations in the research, knowledge and counselling practices currently prevalent in working with institutionalized children.
There is scope for a lot more work to be done on the problems of children who are institutionalised through being destitute: orphans, abandoned, abused or runaways. There are also children who are at risk with law. ICEB sees itself as a forum for studies, discussions, debates and research on issues that would lead to the integration of such children into the mainstream and thus to their inclusion in civil society.

The focus on inclusion is reflected in children with disabilities, being included in all efforts of enabling and where necessary, restoring children to a fulfilled life. ICEB would open out debate and discussion on such children. This would significantly influence the quality of life of these children in South Asian countries.
The law in respect to the well being of children is constantly evolving and older laws are being revised and superior newer laws are coming into force. ICEB also seeks to encourage debate and discussions as well as reviews of existing and forthcoming laws. It explores areas where laws could be necessary.
The scope includes encouraging studies on these issues by including universities and hospitals, together with clinics; young professionals and those in the field of care giving, in the non-governmental not-for-profit-sector as well asin government set ups.
ICEB, hopefully would be able to provide continued education in dealing with institutionalised children and children in other alternative forms of care,especially in re-establishing positive mental well-being practices.The belief is that such education and sharing of knowledge and experience would lead to more dynamic prevention models as well as rehabilitation models. ICEB has original research, reviews, commentaries, editorials, essays, correspondence, and supplementary and additional content (including abstracts, where appropriate) to enhance knowledge about this field. The language of use is English.

What does it include? ICEB includes the following:
Letters to the Editor.
In-depth interview of an individual who has done a prominent work with institutionalised and abandoned children.
Unpublished Manuscripts from individuals who conduct research with orphaned and abandoned children and those in need of protective care. The section will provide for scholarly literary input on various topics related to the population under consideration.
To give breadth and depth to our journal, a paper with a significant international perspective will also be published in each issue. These papers will be solicited from authors outside the SAARC region, whose research focus, literary investigation and the exploration of innovative and alternative care models contributes significantly to the field in general.
An article presenting 'good practice' will be selected to provide a comprehensive review of how institutional care is provided in different settings.
Published Manuscripts that have already been published elsewhere but are deemed to contribute significantly to the subject under consideration. (Authors wishing to submit already published manuscripts must obtain permission or give us permission to contact the publishers to obtain the necessary rights to publish their paper).
Book and movie reviews addressing issues related to orphan care and orphan hood and which focuses on the portrayal of orphans respectively.
Brief communications will consist of briefings on a particular topic related to institutionalised children whether it is a new law, new policy, new practice, conference, seminar, workshop, or anything relevant to the particular topic. In all, this section for each topic will not take more than 1-2 pages. Some of these could even serve as a precursor for future journal topic considerations.
Upcoming events section will inform about upcoming seminars, conferences, training, campaigns, etc.
PERIODICITY
The Journal ICEB is published six monthly, first in spring (March) and thereafter in fall (September).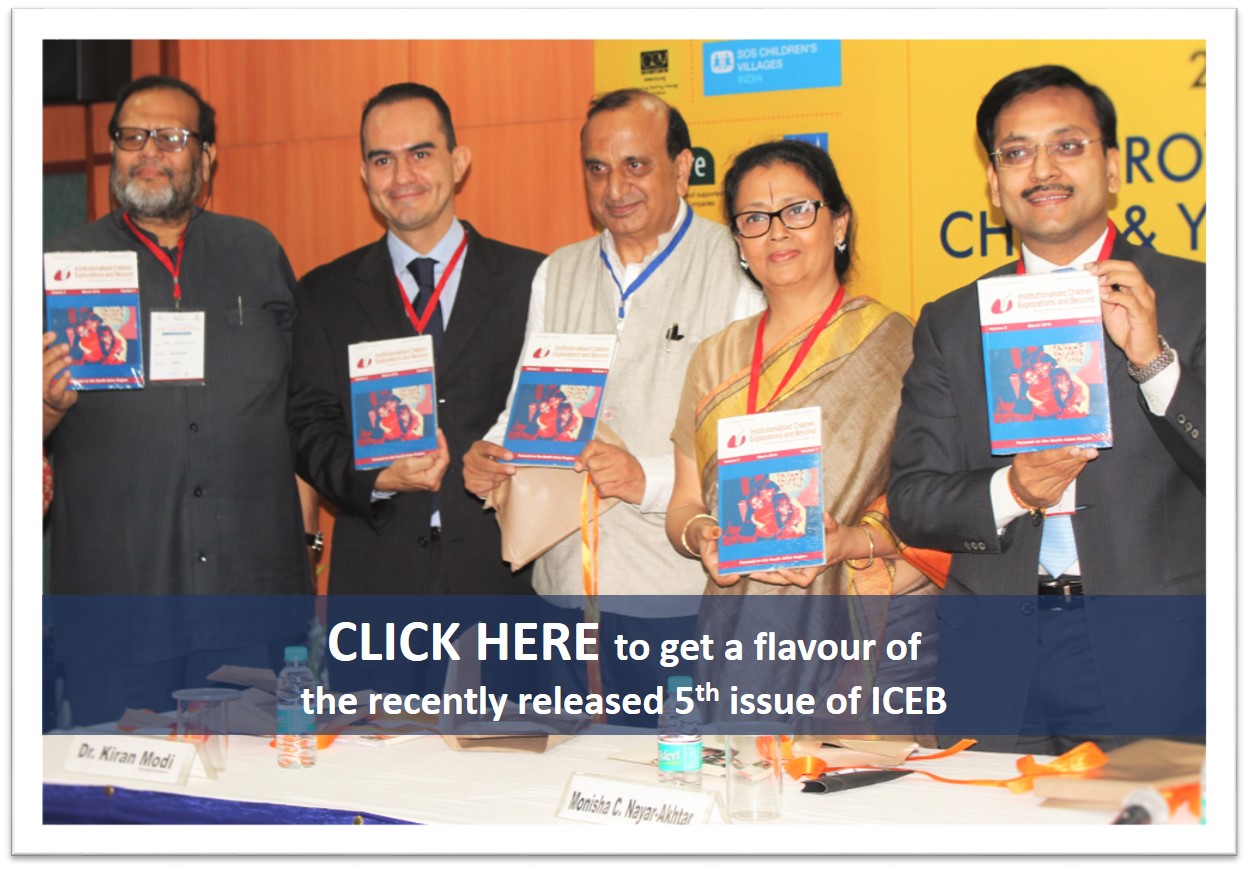 Disclaimer: "Articles published by the Journal: "Institutionalised Children: Explorations and Beyond" (ICEB) reflect the views of the author alone and not necessarily those of Udayan Care or of the ICEB."