You are here
Learning in Fellowship Together (LIFT)
About the Programme
Learning In Fellowship Together (LIFT), India
Kamal Bhargav

Farheen Khan

 

Mausumi Das

 

Surja Chauhan

 

Rayees Ahmad Bhat

Sufeera Jan

Khushi Rajput

Shweta Gupta

A 21 year young boy from Jaipur, who is pursuing B.COM final year, is a care leaver fellow of  UNICEF-UC LIFT fellowship. He is very dynamic and is working on providing mental health and career assistance to children in CCIs for their smooth transitioning. He is also an active member of the state care leavers' network CLiC.
Hailing from Dombivli, Maharashtra, this young dynamic girl is a graduate in BA Economics. She is a care leaver fellow of UNICEF-UC LIFT fellowship. She totally believes in multi-tasking and is working on providing mental health support and career assistance to the children living in CCIs for their  better transitioning in the world.
A 25 year young girl from Guwahati, who is a graduate and works as a makeup artist in Pratidin times news channel at Guwahati is a fellow at LIFT fellowship. She is a trained dancer and also the chairperson of the Assam Care Leavers' Association. She is keen to do a research on the educational status of CLs in Assam and enroll them back to the education via distance mode.
This 21 year young girl is a graduate in BA political science and is a fellow at  UNICEF-UC LIFT fellowship. She is highly passionate and is doing advocacy on the rights of Care Leavers and Care Leavers with special needs through writing blogs and articles on social media.
A 22 year young boy, hailing from J&K, is a graduate in pursuing BSW and is a fellow of UNICEF-UC LIFT fellowship. He wants to give back to the  society by reaching out to CCIs and work towards providing counselling support to the children and to CLs, be it psychological support or career assistance. 
Coming from J&K, this 24 year young girl is a graduate and pursuing MA in sociology. She is also pursuing a course in nursing from Srinagar. She wants to bring visibility to the issues of CLs in Srinagar by making a documentary on them. She is also working on building soft skills of the children living in CCIs.
A 21 year young girl from Bhopal, graduate in BA, is a fellow of UNICEF-UC LIFT fellowship. She is a black belt holder in karate and aspires to train as many girls and women in self defence and/or karate, as she can. She is also linking the children in CCIs to various sports related scholarships/schemes.
Hailing from Bhopal, MP, this young girl, student of MA sociology is a fellow of UNICEF-UC LIFT fellowship. With focus on studying the situation of care leavers, she intends to do a research study on the status of care leavers in Bhopal from 2019 till 2021 and do another study on various global care leaving networks and analyse the good practices.

On behalf of Learning In Fellowship Together (LIFT), we express our heartfelt gratitude and appreciation to our Selection Committee Members.
We are confident that our collective efforts yielded a great outcome for the Fellowship.
This was only possible through your commitment of time and effort, which is especially notable given your normal responsibilities.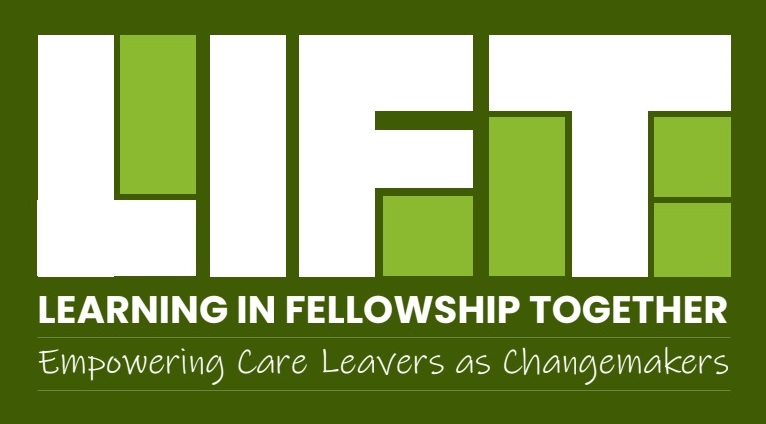 Come, be the torch bearers for the future generations of Care Leavers!
A one-year Fellowship focused on developing and nurturing Care Leavers as agents of change, working towards improving the overall situation of Care Leaving in India. The Fellowship model was created keeping in mind the need for nurturing Care Leavers in India, and for them to follow their dreams and thrive exceptionally by giving back to society. The Fellowship aims to be a stepping stone for the Care Leavers in their own personal growth as well as bridging the existing gaps in society, by equipping them with suitable skills to navigate through the challenges and solve them. The academic curriculum of the Fellowship is tied together through a year-long, hands-on, Community Project to design innovative solutions for the Care Leavers community in India.
Programme Objective
Provide a platform for Care Leavers
The Fellows will get to hone their personal and professional growth through the curricula, and will be supported through a mentorship program. 
Incubate and launch initiatives
The Fellows will launch initiatives that benefit the larger Care Leavers community in India, including strengthening the Care Leavers network in their respective states and national level.